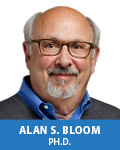 Alan S. Bloom, Ph.D., is professor of Pharmacology and Toxicology at the Medical College of Wisconsin where he teaches psychopharmacology to medical students and neuroscience graduate students. He earned a dual Ph.D. in psychology and pharmacology and consults regularly with psychiatrists and attorneys in drug abuse and other pharmacology related cases.
For the past 20 years he has conducted research on the impact of drugs of abuse (marijuana, cocaine, etc.) on the brain through use of functional magnetic resonance imaging (fMRI). He directs research on the cognitive effects of chemotherapy drugs administered to women with breast cancer, commonly known as "chemo-brain". His studies have been funded by the NIH and other national organizations and reported in an extensive number of publications and presentations. Dr. Bloom has served on the NIDA Center grant review panel and is an appointed member of the Controlled Substance Board of the State of Wisconsin.
He is a strong and experienced presenter providing lively, information-packed seminars. Dr. Bloom encourages the active learning of participants through application of the material in case studies and problem-based learning. In 1997 he was elected to membership in the Medical College of Wisconsin Society of Teaching Scholars.