Jack Hirose, M.A., President and Owner
VANCOUVER, BRITISH COLUMBIA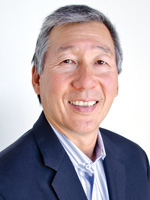 Jack holds a masters degree in counselling and education. He has over thirty years experience in the mental health and education field. Throughout over twenty years spent as a devoted counselor and educator, Jack offered support, guidance and instruction to adolescents, adults and families. In 1998, Jack started planning workshops out of his home in North Vancouver. He now plans up to 60 events per year and has provided quality training to over 80,000 mental health and education professionals throughout Canada and the United States.
As President of Jack Hirose and Associates Inc., Jack is actively involved in all facets of the development and delivery of workshops, conferences and community services.  In his leisure time, he enjoys boating, hiking, mountain biking, crab fishing, golfing and travelling with his wife and two daughters. Jack is an avid football fan and is a BC Lions season ticket holder.
→ View Jack's professional biography
Laura Hirose, BA., Director of Marketing and Product Development
VANCOUVER, BRITISH COLUMBIA
Laura holds a B.A. in Psychology from The University of British Columbia. Her main areas of expertise include planning and coordinating live events, strategic marketing and product development. She is currently working on creating a series of  online courses to enable participants greater ease of accessibility to quality continuing education services.
Nicole Wiggins, Event and Marketing Coordinator
VANCOUVER, BRITISH COLUMBIA
Nicole is a full-time member of the JHA team. She has a diploma in Hospitality Restaurant Business Management, focused in Event Management. She hopes to continue learning and growing in the event industry. She is organized and has lots of past customer service experience. Her goal is to help JHA have many successful workshops and conferences to come!
In her spare time, Nicole enjoys travelling, getting lots of exercise and maintaining an overall healthy diet.
Maddison White, Event and Product Coordinator
VANCOUVER, BRITISH COLUMBIA
Maddison is a full time member of the JHA team. Her hometown is Toronto where she worked as a Court Reporter before deciding to move to Vancouver. She is looking forward to learning and growing in the event business. Her goal is to accomplish more successful and exciting workshop seasons to come!
In her spare time she enjoys reading, road trips and spending time with friends.
Chantelle Ko, On-Site Event Coordinator
VANCOUVER, BRITISH COLUMBIA
Chantelle enjoys being able to bring her joy for organization to the office and applying it to all the successful events that she has helped coordinate and plan. Her interpersonal skills offer great customer service to our participants, and an excellent experience for our speakers. Her goal is to offer well-organized events every time!
In her spare time, Chantelle thrives for a healthy balance of school, exercise, and fun!
Loraine Hubbell, On-Site Event Coordinator
Calgary, Alberta
Loraine joined the Jack Hirose and Associates team 15+ years ago and continues to enjoy coordinating the many workshops in Calgary and central and southern Alberta.  Loraine and her husband run a small home business so she was looking for an opportunity to get out of her home office.  This filled the bill nicely and she is delighted that she has met and become friends with so many attendees along the way.
Loraine and her husband like to travel and spend time at their summer property in Sylvan Lake, Alberta with her two children and 3 grandchildren.
Carol Oczkowska, On-site Event Coordinator
Edmonton, Alberta
Carol has just joined Jack Hirose and Associates and will be coordinating events in Edmonton. She holds degrees in English, journalism and ancient history, and is a freelance editor and writer. With years of experience in public relations and teaching at the post-secondary level, Carol is never happier than when with groups of people pursuing a common interest. She has also worked in television and newspapers.
A "news junkie" with eclectic interests, Carol is an avid reader of non-fiction, especially of socio-political or esoteric studies. She also enjoys organizing special events and has happily tried her hand at catering. An animal lover who enjoys gardening (yes, it is possible to garden in Edmonton, occasionally), in good weather she can be found strolling the grounds at the zoo. In bad weather, she is usually in front of the fire with a good book.
Verona Leslie, On-site Event Coordinator
HALIFAX, NOVA SCOTIA
Verona joins our team in Atlantic Canada.  A Halifax native, Verona brings to Jack Hirose and Associates her strong organizational skills, knowledge of the local area and an enthusiastic personality.  For over 30 years, Verona worked as an information specialist in several teaching hospital libraries.  Verona has a strong interest in sports and held the position of registrar for a soccer club for over 10 years.
Verona has a Bachelor's Degree in Office Administration and currently lives in Fletchers Lake, NS. She spends her winter months engaged in DYI projects, blogging, quilting and knitting. In the warmer months, with her camera over her shoulder, along with her partner, Capt. Mike, and their small dog, Whiskey, spend their time sailing along the southern coastline of Nova Scotia on their Vancouver 25.
Anne Stacey, On-site Event Coordinator
OTTAWA, ONTARIO
Anne has just joined Jack Hirose and Associates and will be coordinating events in Ottawa. She holds a B.A. in Psychology and completed the Festivals and Community Events program at Algonquin College in Ottawa. With years of experience in association and event management, she has recently ventured into independent contracting. She is a registered meeting and certified event planner with extensive organizational, marketing, and corporate development acumen. She has travelled across Canada and the US planning national conferences, board meetings, and providing guidance on governance for several national associations. Her favourite part of any contract is being on site at events meeting the delegates and ensuring a productive, educational and pleasing experience for all.
In her free time, Anne enjoys outdoor recreation – usually anything on or near water! And she usually has her kayak and border collie (Molly) in tow. Travel is a passion of hers and she has enjoyed several amazing trips, including a safari experience camping around Namibia and Botswana. She looks forward to many more travel adventures in her future!
Cynthia Johnston, On-site Event Coordinator
Saskatoon, sasktchewan
Cindy Johnston has been a coordinator with Jack Hirose and Associates since 2014, focusing on organizing workshops in Saskatoon and Regina.
Cindy holds a Bachelor of Arts degree in Psychology from the University of Saskatchewan.
Since retiring from the family restaurant/lounge business, Cindy enjoys spending time with her three granddaughters, one standard poodles and enjoys summers at the lake.
Megan Seely, Web Developer/Graphic Designer
Vancouver, British Columbia
Megan graduated from the IDEA (Illustration and Graphic Design) program at Capilano University (2007) and has since worked for clients around the Lower Mainland and for advertising agencies and design studios. She is an experienced web programmer. In 2009, Megan started up a small design studio named Chestnut St. Pixel Foundry with business partner Kelly Chen. When she is not in front of a computer screen, she can be found reading, exploring nature, experimenting in the kitchen, and attending to her two black Siamese-cross felines. Megan has worked part-time with Jack Hirose and Associates since 2005.
Daniel Yu, Graphic Designer
OTTAWA, ONTARIO
Daniel earned his Bachelor of Graphic Design at OCAD University in downtown Toronto. From the urban jungle, his career path has taken him across the country to the scenic west coast. He discovered that the most rewarding work is when he's contributing toward positive change. At Jack Hirose and Associates Inc., Daniel directs the visual brand by creating the marketing materials and web elements. Outside of the office, he is travelling the world with his wife, enjoying a cup of coffee, healing from snowboard lessons and enjoying a movie.
Daniel Dawson, Event Services
Vancouver, British Columbia