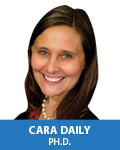 Cara Marker Daily, PhD, BCBA, is a licensed psychologist and Board Certified Behavior Analyst with over 20 years of experience providing assessment and treatment for children, adolescents and young adults with autism in the home, school, hospital and community settings. She works directly with educators, speech/language pathologists, occupational therapists, BCBAs and other professionals. Dr. Daily is the president and training director of Daily Behavioral Health, a leading behavioral health provider in northeast Ohio specializing in assessment, consultation, and treatment of autism, anxiety and disruptive behavior disorders. She is the founder and executive director of the Building Behaviors Autism Center, which has received numerous grants to provide free and reduced cost applied behavioral analysis services to individuals with autism.
Dr. Daily has written several cognitive-behavioral and behavioral-based curriculums focusing on teaching daily living skills to children with autism and published a peer-reviewed journal article supporting evidence for success of these programs. She has presented nationally on topics of autism, disruptive behaviors disorders, anxiety and chronic health conditions in the pediatric population. Dr. Daily has been featured in radio, television, and other media platforms in northeast Ohio. She is the author of The Key to Autism: An Evidence-Based Workbook for Assessing and Treating Children and Adolescents (April 2016, Publishing & Media).
Dr. Daily received her Ph.D. in School Psychology at the University of South Carolina, and completed an internship in Pediatric Psychology at the Children's Hospital of Philadelphia and a postdoctoral fellowship in Pediatric Psychology at The Children's Hospital at The Cleveland Clinic. Dr. Daily is a member of the Department of Pediatrics at Fairview Hospital at the Cleveland Clinic, the American Psychological Association, the Ohio Psychological Association, and the Christian Association of Psychological Studies.
Testimonials
"Hands down the best workshop I have attended on any subject. All the things I wanted to know, were covered, in the right amount. Every teacher should have to take this workshop"
– Edmonton, AB | April 29 – 30, 2019
 
"Dr. Daily was engaging, well-spoken, and very knowledgeable. Learned a lot – thank you"
– Edmonton, AB | April 29 – 30, 2019


"An excellent workshop done with realistic, relatable examples and plenty of strategies to take back to me work team and environment"
– Winnipeg, MB | May 2 – 3, 2019
"Extremely knowledgeable, entertaining, down – to – earth. This has increased my interest in working this population as I now feel more comfortable in my understanding of Autism and the seasoning behind many of the common behaviours."
– Calgary, AB | April 18, 2018
"Instructor very knowledgeable, smart and up to date on information. Very down to earth and give many examples to make it relatable to everyone. I am a visual learner, this met those needs. Taught me a lot to take back to my facility! Great work, and thank you!"
– Calgary, AB | April 18, 2018
"I attended as a grade 6/7 teacher, a counsellor in a community agency, and parent of a six-year-old recently diagnosed with ASD. I found the workshop useful in all these areas. Thank you so much, Cara. "
– Vancouver, BC | April 20, 2018
"Cara is able to unlock diagnosis and supports for individuals with autism in an extraordinary manner. Technical definitions are interspersed with anecdotes in a lively presentation. I am inspired to continues learning more. I can use the insights and practical strategies tomorrow! Cara is open and responsive to one to one questions! Amazing!"
– Vancouver, BC | April 20, 2018
"Awesome workshop; Should be mandatory for every EA in BC school district! Ministry of Education, please get this workshop in schools!"
– Vancouver, BC | April 20, 2018