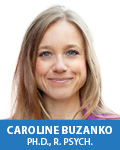 Caroline Buzanko, Ph.D., R. Psych. is a Psychologist. Mother. International Speaker. Yoda of Anxiety. Neurodivergent Superhero. Changer of Lives. She is a dynamic force in the field of psychology, dedicating nearly three decades to transforming the lives of children, teens, and their families. With a dedicated commitment to fostering deep connections, instilling unwavering confidence, igniting motivation, and building resilience in the face of challenges, Dr. Buzanko's mission is clear: to ensure that every child and teenager receive the understanding and support they deserve.
Renowned for her expertise in the assessment and support of anxiety, ADHD, ASD, learning, and behavioural challenges, Dr. Buzanko stands as a trusted ally, advocate, and go-to authority. Dr. Buzanko's research pursuits delve into the realms of resilience and growth, directly informing her clinical approach and resulting in innovative training programs and workshops that have transformed the practices of countless educators, caregivers, allied mental health professionals, and medical doctors.
Dr. Caroline Buzanko is a captivating speaker and anyone who attends her workshops can expect to be enlightened, inspired, and equipped with practical strategies to empower the children and teens they work with. Together, let's create a world where every child thrives and embraces their full potential.
Testimonials
"The presenter was very knowledgeable in her area of expertise. She provided several personal and work-related examples; this was extremely helpful. This webinar will definitely help me in my work as a school psychologist. Thank you Caroline!"
– Webinar | May 2021

"The presenter was exceptional- one of the best I have listened to in years. She was extremely knowledgeable in her area of expertise. Caroline used many personal and professional examples of her work. This webinar will be a significant help in my role as a school psychologist."
– Webinar | May 2021

"Caroline was very informative, animated and delivered the information in an interesting way. She was passionate about ADHD."
– Webinar | March 2021