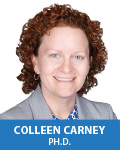 Colleen Carney, Ph.D., C.Psych received her Ph.D. in Clinical Psychology from Louisiana State University in 2003. From 2004 through 2008 she was a professor at Duke University Medical Center, where she established the Comorbid Insomnia Clinic. Since 2008 she has been an Associate Professor in the Department of Psychology at Ryerson University, Toronto, where she is Director of the Sleep and Depression Laboratory.
Dr. Carney is one of the leading experts in psychological treatments for insomnia, particularly in the context of co-occurring mental health issues. She is President of the Association for Behavioural and Cognitive Therapies Special Interest Group for Insomnia and Other Sleep Disorders. She frequently trains students and mental health providers in CBT for insomnia at invited workshops throughout North American and at international conferences.
Dr. Carney has over 100 publications, including seven treatment books, book chapters and numerous peer-reviewed publications on the topic of insomnia and depression. She authored the first self-help insomnia book for those with comorbid depression, anxiety, and chronic pain.
Her research is funded by such agencies as the National Institutes of Health and the Canadian Institutes of Health Research. Her research was recently featured on the front page of the New York Times.
Dr. Carney is a passionate advocate for improving the availability of treatment for those with insomnia and other health problems. She is an experienced and engaging speaker, with a talent for explaining complex processes simply and with humour.