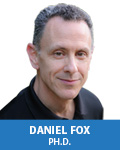 Daniel J. Fox, Ph.D is a popular and influential psychologist as well as a multi-award-winning author. He is an internationally acclaimed speaker and the founder and director of Applied Psychological Services, PLLC in Texas.
Dr. Fox has been a licensed, practicing psychologist for nearly two decades, working with both children and adults. He is an expert on personality disorders, especially narcissistic, antisocial, and borderline personality disorders. Dr Fox is also an authority on burnout prevention and professional enhancement.
Esteemed as a writer, Dr. Fox's books include Antisocial, Borderline, Narcissistic and Histrionic Workbook, which won Gold in the Psychology Category at the 2016 IBPA Benjamin Franklin Awards. He is also the author of The Clinician's Guide to the Diagnosis and Treatment of Personality Disorders, the Narcissistic Personality Disorder Toolbox, which won Silver in the Psychology Category at the 2019 IBPA Benjamin Franklin Awards, The Borderline Personality Disorder Workbook, .
Dr. Fox runs a popular YouTube channel with nearly over 80,000 subscribers and climbing.