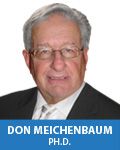 Don Meichenbaum, Ph.D., is Distinguished Professor Emeritus from the University of Waterloo. Ontario from which he took early retirement 20 years ago. He is presently Research Director of the Melissa Institute for Violence Prevention in Miami (Please see www.melissainstitute.org). He is one of the founders of Cognitive Behaviour Therapy.
In a survey of clinicians reported in the American Psychologist, he was voted "one of the ten most influential psychotherapists of the 20th century." He has received a Lifetime Achievement Award from the Clinical Division of the American Psychological Association and he was Honorary President of the Canadian Psychological Association. He has presented in all 50 U.S. states and internationally. He has published extensively and most recently published Roadmap to Resilience: A Guide for Military Trauma Victims and Their Families (visit www.roadmaptoresilience. org). His other books include The Evolution of Cognitive Behavioural Therapy: A Personal and Professional Journey with Don Meichenbaum, Treatment of Individuals with Anger Control Problems and Aggressive Behaviour; Stress Inoculation Training; Facilitating Treatment Adherence; and The Unconscious Reconsidered.
He has consulted for various populations including veterans' hospitals, the National Guard, psychiatric treatment centres for children, adolescents and adults, treatment centre for individuals with traumatic brain injuries, torture victims, Native populations, deaf populations and school boards. See papers by Dr. Meichenbaum on www.melissainstitute.org (go to home page and click on Author's Index and scroll to Meichenbaum).
Testimonials
"Don is the most interesting, dynamic, and hilarious presenter. I could listen to him/learn from him all day."
– CBT & DBT Conference | Calgary, AB | December 3, 2015

"Dr. M – very good presenter; great topic and very knowledgeable."
– Paula Caines | Calgary, AB | December 3, 2015


"A master's voice! Second time hearing him. I have already studied Don's work."
– Richmond, BC | December 2, 2015
"This was fabulous! Dr. Meichenbaum was very engaging, skilled, and able to convey the information in an organized fashion that was easy to understand. I loved his use of anecdotes and the presentation of DVD clips of clinical work. I sincerely believe that the information I learned will enhance my clinical work."
– Sarah | Vancouver, BC | November 7, 2014


"A very engaging, informative and entertaining speaker."
– Vancouver, BC | November 7, 2014


"Dr. Meichenbaum is a legend."
– 2014 Trauma Conference | Calgary, AB | November 19, 2014

"Best learning experience I've had in years! I graduated in '87 (Ph.D.). Great new info and research, AND entertaining presentation!"
– Toni (Private Practice) | Vancouver, BC | November 6, 2014


"Two days very well spent. I feel satisfied that I learned new information, but also have new resources to draw on in my clinical work, as well as providing leadership with the staff at my centre. Thank you."
– Dana | Vancouver, BC | November 6 & 7, 2014


"The material was presented well. Interesting from a clinical perspective. I will share notes with colleagues."
-Barb | Vancouver, BC | November 7, 2014


"Thank you for sharing your knowledge and expertise with us. Your use of materials (videos and handouts) made the presentation very engaging and applicable to my professional setting (an outpatient counseling centre for individuals with substance use issues)."
– Vancouver, BC | November 6 & 7, 2014


"I loved Dr. Meichenbaum. He uses humour, and his workshop was very fun, engaging and very informative. I will be very interested in other workshops by Dr. Meichenbaum – thank you very much."
– Vancouver, BC | November 6, 2014


"Excellent workshop, good examples, sense of humour kept me engaged and attentive."
– Vancouver, BC | November 6, 2014
More information: www.melissainstitute.org