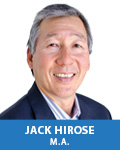 Jack Hirose, M.A. is a Vancouver-based educational event planner and conference organizer with over 30 years experience developing high quality training programs for mental health professionals, educators, community organizations and businesses. During Jack's 20 year counseling and teaching career, he worked with youth, adults and families in many different environments including outpatient clinics, community colleges, schools, correctional settings, hospitals, treatment centres, and group homes.
In the last decade, 55,000 participants have attended his professional training events. He is director and founder of the The Canadian Mental Health Summit (2018), Educators Conference (2018), School Based Mental Health Conference (2016, 2017) Healing and Treating Trauma, Addictions and Related Disorders Conference (2010 – 2017). He was also co-director of other major Canadian Conferences including: The Neufeld Institute Conference (2017, 2018) The Western Canadian Conference on Addictions and Mental Health (2004 – 2008), Western Canadian Solution-Focused Conference (2006) and The Art and Science of Psychotherapy Conference (2006).
In another chapter of Jack's life, he was a member of Canada's National Judo Team and had a brief professional football career with the Saskatchewan Roughriders, Toronto Argonauts and Montreal Concordes. Jack resides in North Vancouver with his wife, Julie, and two daughters.
More information: www.jackhirose.com