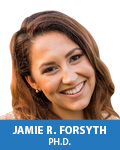 Jamie R. Forsyth, Ph.D. is an active and gifted clinician and clinical supervisor, with extensive expertise in the use and application of Acceptance and Commitment Therapy (ACT) with severe forms mental illness (e.g., psychosis and personality disorders) and forms of psychological and emotional suffering in inpatient, outpatient, and college mental health settings.  Beyond ACT, Jamie is a skillful integrationist and researcher, with specialized knowledge in relational and process-oriented therapeutic work, addictions, motivational interviewing, including mindfulness and self-compassion practices.
Jamie holds a Doctorate in Clinical Psychology from the University at Albany, SUNY. Currently, Jamie is a Clinician at Union College, where she offers ACT-based outpatient psychotherapy to college students presenting with significant psychological, emotional, and behavioural challenges. Her clinical work, grounded in evidence-based know-how, offers unique insights into the subtle nuances of ACT as it unfolds in clinical practice.  Jamie is also actively engaged in the dissemination of ACT and mindfulness practices within her college community and, along with her husband John, co-lead ACT professional workshops in the United States and abroad.
Although ACT is her primary theoretical orientation, Jamie considers herself to be an integrationist and thus draws upon relational and psychodynamic theories to help create a holistic person-centred approach to treatment.  Jamie's clinical wisdom, coupled with the depth and scope of her knowledge and skills, bridges various approaches and streams of practice within an ACT point of view.
John and Jamie have trained thousands of mental health professionals in the practical use of ACT and together they are known to offer what promises to be a unique and dynamic ACT training experience. They are known to infuse their teaching and trainings with energy, humility and compassion, and their down-to earth workshops are consistently praised for their clarity, depth, and practical utility.
John and his wife Jamie regularly give ACT talks and workshops to the public and professionals in the United States and abroad.  They are well known for offering intensive week long retreat-style ACT trainings at the Omega Institute for Holistic Studies in Rhinebeck, NY, the Esalen Institute in Big Sur, CA, 1440 Multiversity in Santa Cruz, CA, and the Cape Cod Institute in Eastham, MA, where John and Jamie are members of the teaching faculty.
Testimonials
"Excellent workshop – Presenters were knowledgeable, respectful of audience – allowing questions, demonstrating the ACT values in their interactions. The content will be very useful in my practice. Thanks to John and Jamie and to Jack Hirose for providing affordable, useful quality training opportunities."
– Edmonton, AB | November 27 – 28, 2018
"I really enjoyed this workshop. It was practical with lots of examples and exercises to help you practice. I found John & Jamie engaging speakers and enjoyed the "dynamic duo" and how they helped add to each others discussion. I really appreciated how genuine they were and that they used personal examples to help show how to use ACT principals. They openness to questions and role plays kept me engaged. I would like to see them again!"
– Edmonton, AB | November 27 – 28, 2018

"The presenters were knowledgeable and engaging. They worked well together and complimented each other's area of expertise. This workshop helped me to understand the ACT framework and gave me skills to implement into my practice."
– Edmonton, AB | November 27 – 28, 2018

"John and Jamie complimented each other's wisdom, charisma, perspectives and energy to deliver a really great 2-day workshop. They were well organized to allow the information to flow smoothly, yet flexibly. I already had a good sense of and intergrade ACT into my therapeutic work – but it was helpful to hear the concepts through their lenses and deeper my understanding and ability to utilize ACT concepts. Tools/language. A very worthwhile 2 days!!"
– Edmonton, AB | November 27 – 28, 2018

"John and Jamie were great speakers who made an excellent presentation team. The info was a great intro to ACT and I liked the practical info they provided."
– Richmond, BC | November 26, 2018
"You two were amazing and so engaging. Thank you!"
– Richmond, BC | November 26, 2018

More information: https://www.drjohnforsyth.com/