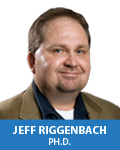 Jeff Riggenbach, Ph.D. is a best-selling and award winning author who has earned a reputation as an international expert in CBT and personality disorders. Over the past 20 years he has developed and overseen CBT-based treatment programs for Mood disorders, anxiety disorders, addictive behaviour disorders and Personality Disorders at two different psychiatric hospitals and clinics serving over 3,000 clients at multiple levels of care. Dr. Riggenbach trained at the Beck Institute of Cognitive Therapy and Research in Philadelphia, is a Diplomat of the Academy of Cognitive Therapy and a certified cognitive therapist. He has trained over 20,000 professionals worldwide including audiences in all 50 United States, Canada, Mexico, the UK, South Africa, Australia and New Zealand.
Dr. Riggenbach is the author of six publications including his most recent release The CBT Toolbox (2nd ed): A Workbook for Clients, Clinicians and Coaches.
Jeff is known for bridging the gap between academia, research findings and day-to-day clinical practice, and his work has earned him the reputation for being. "The practical tools guy." His seminars on CBT, DBT, and Schema-Focused Cognitive Therapy routinely receive the highest evaluations from conference participants in terms of clinical utility as well as entertainment value.
Testimonials
"Workshop was great! The materials we received were awesome and very helpful. Jeff did very good with explain and going into detail when questions arouse."
– Calgary, AB | November 20, 2019

"The examples paired with actual real life interventions are very helpful – a great way of explaining moving from the theory to practical tools in session totally worth it!"
– Calgary, AB | November 20, 2019


"Overall enjoyed Jeff's perspectives and relaxed nature! Spoke clearly and effectively, and delivered content in an easy and approachable way."
– Charlottetown, PEI | July 10-12, 2017
"Definitely worth the dime and time. This course is structured so as to reach a wide variety of professionals. Jeff is a great presenter who knows his stuff and holds his audience's attention. So glad I traveled to get here! I would have liked to have more handouts in regards to the examples he uses – ie. models, exercises, charts, logs."
– Amanda Weeks | Charlottetown, PEI | July 10-12, 2017

"Wonderful overview of the models. Jeff was an amazing grasp of research and it's application to client populations. Thank you."
– Charlottetown, PEI | July 10-12, 2017
"I have been nursing for 28 years and have attended many education sessions over the years, and this workshop is in my top 5 of favourites. Very thorough, engaging, and so educational (easy to understand + implement). Thank you!"
– Charlottetown, PEI | July 10-12, 2017
"Very informative, Jeff. I enjoyed your sense of humour and the way you made things very real not just clinical."
– Charlottetown, PEI | July 10-12, 2017
"Very good workshop – content and presentation. Liked the most was how Jeff used examples. Certainly lots of knowledge to share. I would say best I ever attended. Thanks!"
– Charlottetown, PEI | July 10-12, 2017
"Jeff provided some good tools and strategies for helping to map out motivations/issues/thinking disorders so that clients might see why & how they think like they do."
– The Manitoba CBT & DBT Conference | June 3, 2016
"Very thought-provoking. Provided tangible evidence and resource supports."
– The Manitoba CBT & DBT Conference | June 3, 2016
"Very good presenter. Very dynamic, fluid, and knowledgeable with good use of personal experience and humour."
– The Vancouver CBT & DBT Conference | May 25, 2016

"I learned so much today. Thank you, you have made me a better therapist."
– Calgary, AB | December 4, 2015

"Very well organized presentation, it 'flowered' very good will to describe how the treatment process was taught to patients."
– Calgary, AB | December 4, 2015


 "Informative and validating. [He] offered comprehensive relevant background to hugely significant approaches in psychotherapy and shared [his] clinical experience with interesting and relevant vignettes of [his] clients."
– Calgary, AB | December 4, 2015

"Excellent, organized presentation. Very helpful to have outline and handouts. Jeff clearly knows his subject and reflects his experience with clinical examples."
– Calgary, AB | December 4, 2015