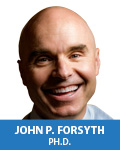 John P. Forsyth, Ph.D. is an internationally recognized author, speaker, researcher, and trainer in the use of Acceptance and Commitment Therapy (ACT) and practices that cultivate mindfulness, loving kindness, and compassion. For over 20 years, his work has focused on developing ACT and mindfulness practices to alleviate human suffering, awaken the human spirit, and to nurture psychological health and vitality.  His personal journey and experience, balanced with practical insights grounded in scientific evidence, offers hope to those wishing to find a path out of suffering and into wholeness.
He has written several popular ACT books, including Acceptance and Commitment Therapy for Anxiety Disorders (for mental health professionals), and several ACT self-help books for the public:  The Mindfulness & Acceptance Workbook for Anxiety, 2nd ed., and ACT on Life, Not on Anger, and Your Life on Purpose.  His latest ACT self-help book, Anxiety Happens, is scheduled for release sometime in the Fall of 2017.
John holds a Doctorate in Clinical Psychology, and is a Professor of Psychology and Director the Anxiety Disorders Research Program at the University at Albany, SUNY in Upstate New York. He is a licensed clinical psychologist, with expertise in the use and application of ACT for several forms of psychological and emotional suffering.  He is also widely sought after ACT trainer and consultant and serves as a senior editor of the ACT book series with New Harbinger Publications.
Collectively, his work has helped foster growing interest in acceptance and mindfulness in psychology, mental health, medicine, and society.
John and Jamie have trained thousands of mental health professionals in the practical use of ACT and together they are known to offer what promises to be a unique and dynamic ACT training experience. They are known to infuse their teaching and trainings with energy, humility and compassion, and their down-to earth workshops are consistently praised for their clarity, depth, and practical utility.
John and his wife Jamie regularly give ACT talks and workshops to the public and professionals in the United States and abroad.  They are well known for offering intensive week long retreat-style ACT trainings at the Omega Institute for Holistic Studies in Rhinebeck, NY, the Esalen Institute in Big Sur, CA, 1440 Multiversity in Santa Cruz, CA, and the Cape Cod Institute in Eastham, MA, where John and Jamie are members of the teaching faculty.
Testimonials
"Excellent workshop – Presenters were knowledgeable, respectful of audience – allowing questions, demonstrating the ACT values in their interactions. The content will be very useful in my practice. Thanks to John and Jamie and to Jack Hirose for providing affordable, useful quality training opportunities."
– Edmonton, AB | November 27 – 28, 2018
"I really enjoyed this workshop. It was practical with lots of examples and exercises to help you practice. I found John & Jamie engaging speakers and enjoyed the "dynamic duo" and how they helped add to each others discussion. I really appreciated how genuine they were and that they used personal examples to help show how to use ACT principals. They openness to questions and role plays kept me engaged. I would like to see them again!"
– Edmonton, AB | November 27 – 28, 2018

"The presenters were knowledgeable and engaging. They worked well together and complimented each other's area of expertise. This workshop helped me to understand the ACT framework and gave me skills to implement into my practice."
– Edmonton, AB | November 27 – 28, 2018

"John and Jamie complimented each other's wisdom, charisma, perspectives and energy to deliver a really great 2-day workshop. They were well organized to allow the information to flow smoothly, yet flexibly. I already had a good sense of and intergrade ACT into my therapeutic work – but it was helpful to hear the concepts through their lenses and deeper my understanding and ability to utilize ACT concepts. Tools/language. A very worthwhile 2 days!!"
– Edmonton, AB | November 27 – 28, 2018

"John and Jamie were great speakers who made an excellent presentation team. The info was a great intro to ACT and I liked the practical info they provided."
– Richmond, BC | November 26, 2018
"You two were amazing and so engaging. Thank you!"
– Richmond, BC | November 26, 2018

More information: https://www.drjohnforsyth.com/