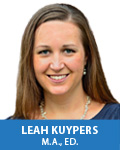 Leah Kuypers, OTR/L, M.A.Ed., earned a Bachelor of Science degree in Occupational Therapy from the University of Wisconsin-Madison, a Graduate Certificate in Autism, and a Master of Arts in Education from Hamline University in St. Paul, MN.  She has practiced as an OT and specialist in school and clinical settings, specializing in self-regulation and social learning, and has worked with students of all ages and challenges, including anxiety, ADHD, and ASD.
Leah created The Zones of Regulation®, a concept designed to teach self-regulation, and is author of the book and app by the same name (2011, Social Thinking Publishing; 2013, Selosoft, Inc). In addition to working with students, she provides trainings and consultation to parents and professionals, and offers workshops on the Zones to groups across the country and Canada.
She currently resides in Minneapolis, MN with her husband, son, daughter and dog. To have fun, Leah loves traveling, playing with her children, hiking, skiing and most anything outdoors.
Testimonials
"Enjoyed the very practical applications of Leah K's presentation. I can take away so much to apply in the classroom. Thanks!"
– Edmonton, AB | October 26-28, 2016

"Evidence from research studies and news headlines very appreciated, very happy to hear how zones could be implemented school-wide and for older students. I have done lots of zones for younger students but never for adolescents."
– Edmonton, AB | October 26-28, 2016

"Dr. Kuyper's love of kids shone through."
– Edmonton, AB | October 26-28, 2016
More information: http://www.zonesofregulation.com/index.html