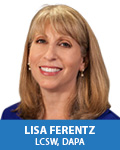 Lisa Ferentz, LCSW, DAPA, is a recognized expert in the strengths based, de-pathologized treatment of trauma and self-harm and has been in private practice since 1984. She presents workshops and keynote addresses nationally and internationally, and is a clinical consultant to practitioners and mental health agencies in the United States, Canada, England and Ireland. She has been an adjunct faculty member at several universities, and in 2007 founded "The Ferentz Institute," which provides continuing education and state of the art training in trauma treatment to mental health professionals.
In 2009 she was voted the "Social Worker of Year" by the Maryland Society for Clinical Social Work. Lisa is the author of "Treating Self-Destructive Behaviours in Traumatized Clients: A Clinician's Guide" (Routledge), now in its second edition, "Letting Go of Self-Destructive Behaviours: A Workbook of Hope and Healing" (Routledge), and "Finding Your Ruby Slippers: Transformative Life Lessons From the Therapists' Couch." (PESI)
Lisa hosted a weekly radio talk show, writes blogs and articles for websites on trauma, self-harm, and self-care, teaches on many webinars, and is a weekly contributor to Psychologytoday.com. You can follow Lisa's work at www.theferentzinstitute.com, Facebook, and LinkedIn.
Testimonials
"I really enjoyed this training. I thought the presenter was very knowledgeable about the topic, taught it well, and modelled some of the skills while teaching it. Very useful information that I believe I will be able to incorporate into my practice."
– Fall 2017
"I enjoyed all of the lessons. Very useful information that will help me with my clients."
– Brennan Lane | Fall 2017
"The instructor was incredibly knowledgeable and I am able to take away many new techniques to use with my clients and try to incorporate them into my practice."
– Aleisha Ross | Fall 2017
"I find Lisa to be empathetic and compassionate to treatment of individuals with trauma. I really liked her comments about no safety contracts and taking time pace to contain clients."
– T Nelson | Fall 2017
"This was one of the best and most useful workshops I have ever experienced!"
– Fall 2017

More information: www.theferentzinstitute.com