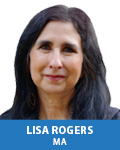 Lisa Rogers has been an educator for over thirty-five years, working with educators and students, including those with special needs, in schools throughout the United States. Born in San Antonio, Texas, she graduated from the University of Texas at San Antonio and Our Lady of the Lake University with degrees in Early Childhood Education [BA] and Special Education [MA].
As the Director of Educating Diverse Learners, Mrs. Rogers currently works with educators, students and their families by way of staff development, classroom support, and modelling/coaching in school districts to achieve academic, behavioural and social-emotional success.
Most requested topics for staff development include Social Emotion Learning, Positive Behaviour Supports, Understanding Autism Spectrum Disorders, Inclusive Education, Self-Regulation, and Communication.
Her most recent publications are "Visual Supports for Visual Thinkers: Practical Ideas for Students with Autism Spectrum Disorders and Other Special Educational Needs" and "Positive Momentum for Positive Behaviours in Young Children: Strategies for Success in School and Beyond". Spare time for Lisa involves family, music and a good movie or book.
More information: educatingdiverselearners.org