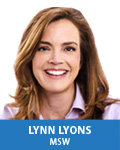 Lynn Lyons, MSW, RSW, is an internationally recognized psychotherapist, author, and speaker with a special interest in interrupting the generational patterns of anxiety in families. Her skill-based approach to anxiety focuses on the need to teach families about HOW anxiety works and what families can do to pull members out of the powerful "anxiety cult" that demands obedience to its need for certainty and comfort. Lynn's approach uses humor, playful connection, and a constant focus on DOING, an umbrella strategy she has taught to thousands of professionals and families.
Lynn is the co-author with Reid Wilson of Anxious Kids, Anxious Parents and the companion book for kids Playing with Anxiety: Casey's Guide for Teens and Kids. She is the author of Using Hypnosis with Children: Creating and Delivering Effective Interventions and has two DVD programs for parents and children.
 She maintains a private practice in Concord, New Hampshire where she sees families whenever she's not on the road teaching. 
Testimonials
"As a mental health therapist and social worker, Lynn Lyons is the reason I attended. She was incredible. Beyond being a captivating presenter, I left with practical and tangible tools to integrate into my practice. More importantly, she changed my approach."
– Lisa Greig | Saskatoon, SK | May 11, 2017

"Lynn is an excellent speaker and did a wonderful job of clarifying anxiety and worry. The way she personifies anxiety and worry makes so much sense, and I'm hopeful I can use this new lens in my classes and life."
– Kerry Aiken | Saskatoon, SK | May 11, 2017

"Lynn Lyons is by far the best speaker I've ever seen/head on any topic related to mental health ever! Her info/materials are practical and useable immediately. Her research is exceptional, accurate + current. Her views + logic make complete sense for me both as an educator and a parent. She made me realized that I was doing everything wrong when dealing with students + my children with anxiety and it felt great. I feel prepared, happy + confident to help anxious students feel better about themselves, school and life."
– Cary Gillman | Ontario, ON | May 4, 2017
"Lynn Lyons was amazing! She was very inspirational and funny! Very knowledgeable and millions of strategies/ideas to try."
– Ontario, ON | May 4, 2017

"Lynn Lyons was an engaging and informative speaker – I loved listening to her speak! She made me really think about how I deal with my own anxiety and the anxiety in my students. She gave me new strategies to bring back to my classroom."
– Alethea Doucet | Ontario, ON | May 4, 2017
"Very helpful insights and practical/applicable info! Thanks."
– Saskatoon, SK | November 17, 2015

"Impressive Speaker. Informative. Real. Down to Earth. All ideas were so logical, and while probably really hard to do, doable! Thoroughly enjoyed this and learned so much both as an educator and as a parent, and as a spouse!"
– Maureen | Saskatoon, SK | November 17, 2015

"Very relevant and timely material to my practice. It is nice to have a professional/scholarly refresher on a subject that is becoming increasingly common. The co-presenters are excellent together and their deep knowledge and experience shows clearly."
– Jarred M | Victoria, BC | April 16, 2014

"This workshop will be helpful to me both as a teacher and a parent. There are numerous strategies that I will implement in my classroom as well as my home to empower my own children. I even believe this will help me deal with anxiety issues that I have been experiencing in adult years."
– Burnaby, BC | April 15, 2014

"What a refreshing look at dealing with anxiety. Very practical and useful steps to implement right away. Wilson and Lyons' humour made looking at a tough topic easy to see and understand."
– Kelowna, BC | April 14, 2014

"Awesome and hilarious. Learned so much – so applicable! Made me realize how enabling I am – but how to change that!"
– Anna | Saskatoon, SK | November 17, 2015

"Loved, loved, loved your presentation! I have really enjoyed the relevant stories and humour. I know I will be using these practical strategies tomorrow!"
– Victoria, BC | April 16, 2014

"Thank you for making a very sensitive topic one that we can use humour and laugh about. It really helped me understand anxiety with a different eye."
– Victoria, BC | April 16, 2014

"Awesome presentation! Simple, clear and effective tools for practitioners and parents… perfect!"
– Ursula H (District Support Services) | Burnaby, BC | April 15, 2014

"The presenters were truly experts in their field. I walked away from the workshop with a whole new appreciation for the child with anxiety, and the healthcare professionals and teachers working with these children."
– Burnaby, BC | April 15, 2014

"I liked two people with different styles, strengths and stories. The variation kept me more alert and attentive. Very good presentation."
– Nancy Meyer, Ph.D. (Private Practice) | Burnaby, BC | April 15, 2014

"I was interested in this workshop because of the dual approach: providing strategies to work with children and parents. You delivered. Thank you."
– Kelowna, BC | April 14, 2014

"It validated my current practices. I found this workshop informative and very useful in giving me some new tools when dealing with children with anxiety. The speakers were knowledgeable and entertaining. I feel empowered and energized. Thank you!"
– Burnaby, BC | April 15, 2014

"Great blend of expertise and humour. The timing and pace of the session maintained attention and interest. I would recommend the workshop and presenters to colleagues."
– Gary Choo (Educator) | Victoria, BC | April 16, 2014

"This was so inspiring and made me reflect both on my practice and my personal life."
– Victoria, BC | April 16, 2014

"This workshop will be helpful to me both as a teacher and a parent. There are numerous strategies that I will implement in my classroom as well as my home to empower my own children. I even believe this will help me deal with anxiety issues that I have been experiencing in adult years."
– Burnaby, BC | April 15, 2014

"Refreshing, engaging and highly useful. Loved the stories, analogies and sense of humour!"
– Rhonda Laforge (Intensive Behaviour Teacher) | Victoria, BC | April 16, 2014

"This workshop was exactly what I needed to support my clients. Great examples and strategies that are ready to use."
– Victoria, BC | April 16, 2014

"Loved it! The best workshop on anxiety I have attended (and I've been to A LOT!). Practical. Changed how I think about anxiety."
– Burnaby, BC | April 15, 2014

"Very thought-provoking. Appreciated the roleplaying so that I could see/hear how I might speak with a student. Loved the humour, and recognized your real-life experience and passion."
– Victoria, BC | April 16, 2014