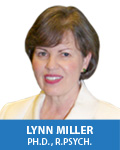 Lynn D. Miller, Ph.D., Lic.Psych started her career as a classroom teacher, and then worked as a school counselor K-12 in the US and Canada. As the Myrne Nevison Prevention Research Professor at the University of British Columbia, she investigated anxiety at the entry to school in kindergarten and grade one. A noted leader in mental health issues of school aged children, she recently completed her term as President of the Anxiety Disorders Assoc. of Canada, 2010-2014 and 2018, and served as the President of the International Association of Marriage and Family Counselors (2004-2006).  Dr. Miller is known for her knowledge and clarity, sense of humor, compassion, and engaging speaking style.
Dr. Miller is a Licensed Psychologist,  Certified Cognitive Behaviour Therapist, and an Associate Professor Emeritus (retired) in the Education and Counseling Psychology and Special Education department at the University of British Columbia.  She has over 30 years of clinical experience in a variety of settings including hospitals, community mental health centers, schools, and private practice. She was a representative to Expert Round Table of BC Ministry of Child and Family Development on Mental Health, and helped plan how mental health services were offered in BC, with anxiety identification and service delivery to children and youth as the lead program. Her research team modified the evidence-based anxiety prevention curriculum (FRIENDS program) from its Australian form. This modified protocol is now in use across Canada, and endorsed by the World Health Organization.
She has trained hundreds of community mental health clinicians on anxiety identification and evidence-based interventions. She has given more than 400  presentations in North America, Scotland and Thailand, presenting research findings. She has written extensively about anxiety in youth from scholarly, peer-reviewed journals to local mental health newsletters. She has held several research grants, examining the effects of empirically supported approaches to child anxiety in the public school system. She has conducted research on other models of anxiety prevention programs in schools, including Taming Worry Dragons, Skills for Social and Academic Success, Cool Little Kids, as well as an enhanced program for Aboriginal children. In 2015, she received the Mid-level career awarded by the American Psychological Association for contributions to children's and adolescents' mental health.
Testimonials
"Thanks, Lynn. I feel like I can go back to my school with a lot of strategies/tools/confidence to deal with the numerous students who are struggling with anxiety!"
– Abbotsford, BC | April 22, 2016

"Lynn was phenomenal. I truly appreciate her applied approach to research based CBT techniques. They will be very useful in a school setting."
– Stephanie Leithead | Kelowna, BC | April 21, 2016

"Outstanding!!! The material was very practical and useful as a clinician. Lynn was an excellent presenter – very engaging, authentic, and enjoyable!"
– Patti Fedar | Edmonton, AB | May 9, 2016

"Engaging and funny presentation – made me think creatively abut how to help kids and parents with anxiety."
– Edmonton, AB | May 9, 2016

"So much great information. Very practical! Felt like I was drinking through a fire hose! Must review my notes to solidify learning! Thank you very much."
– Abbotsford, BC | April 22, 2016
"Loved Lynn – excellent, engaging presenter. Tough to cover this much material in one day but she did a good job. I am so happy that this subject is getting more exposure. Anxiety in children needs more attention."
– Vicky Qualie | Edmonton, AB | May 9, 2016
"I found the speaker very engaging, funny and very realistic about the types of anxiety/depression issues educators face and how we could actually help students with these issues. Very practical. I liked the holistic approach she had about the students we work with – spoke to family, school, and home stressors."
– Edmonton, AB | May 9, 2016

"Lynn Miller delivered her information in a clear, well-organized and humorous manner that was easily digested."
– Edmonton, AB | May 9, 2016
"Lynn's humour and occasional light-heartedness was appreciated."
– Abbotsford, BC | April 22, 2016

"Dr. Miller was engaging, highly knowledgeable, and professional. This workshop will enable me to better support my students and the parents I work with. Dr.Miller's passion has inspired me to go ahead and pursue graduate studies in psychology. Would love to see Dr. Miller again in Calgary. Thank you."
– Ivy Waite | Calgary, AB | May 4 & 5, 2015

"Lynn Miller was absolutely exceptional! It would be wonderful to have her back!"
– 2014 Alberta Conference on Children and Adolescence | Edmonton, AB | November 3 & 4, 2014

"Lynn was an excellent speaker, giving us useful tools and information in an entertaining way – with a handful of anecdotes and a hopeful theme for supporting those with anxiety."
– 2014 Alberta Conference on Children and Adolescents | Edmonton, AB | November 3 & 4, 2014

"As a classroom teacher this workshop gave me a much deeper understanding of how to address anxiety in my classroom. I learned the basics of CBT in ways that gave me tools I could utilize with my students and gave me information and resources to provide to parents."
– Christine | Calgary, AB | May 4 & 5, 2015

"Phenomenal! One of the best conferences I have been to! I would love to have her come and guest speak at our school and division!"
-Worries & Woes | Calgary, AB | May 4 & 5, 2015
"I appreciated your ability to be approachable and your willingness to create such a comfortable atmosphere. Strong, dynamic, humorous speaker with a no-nonsense attitude. Well done! Greatest professional development event I have been to thus far in my career and personal life."
– Greg Duval | Calgary, AB | May 4 & 5, 2015

"Lynn is so engaging and informative. A must- do workshop."
– Carolyn D., M.A | Calgary, AB | May 4 & 5, 2015

"Lynn is a very dynamic speaker who delivers thorough, yet useable strategies for helping anxious kids! I look forward to getting back to work and using my new knowledge!"
– Tara Loureiro, School Counsellor | Winnipeg, MB | June 4 – 5, 2015