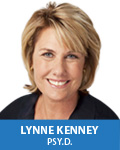 Lynne Kenney, Psy.D., is the nation's leading pediatric psychologist in the development of classroom cognitive-physical activity programs for students in grades K-8. Dr. Kenney develops curriculum, programming, and activities to improve children's cognition through coordinative cognitive-motor movement, executive function skill-building strategies, and social-emotional learning.
Dr. Kenney's most recent educational program is CogniMoves® a universal Tier I MTSS cognitive-motor movement program, co-developed with Benjamin S. Bunney, MD, Former Chairman Department of Psychiatry at Yale University. CogniMoves® is designed to strengthen executive function skills in K-3 students.
Dr. Kenney is a pediatric psychologist on the Language & Cognition Team at Wellington-Alexander Center for the Treatment of Dyslexia, Scottsdale, Arizona. She has advanced fellowship training in forensic psychology and developmental pediatric psychology from Massachusetts General Hospital/Harvard Medical School and Harbor-UCLA/UCLA Medical School. As an international educator, researcher, and author, Dr. Kenney is dedicated to improving the trajectory of children's learning, particularly in high-need, under-resourced communities.
Dr. Kenney's books include Brain Primers, 2020 (Kuczala & Kenney); 70 Play Activities for Better Thinking, Self-Regulation, Learning and Behavior (Kenney & Comizio, 2016);  the Social-Emotional Literacy program, Bloom Your Room™; Musical Thinking™; and Bloom: 50 things to say, think and do with anxious, angry and over-the-top-kids (Kenney & Young, 2015). My Attention Engine: An executive function skill activity book for teachers, parents, and children is slated for 2023.
Since 1985, Dr. Kenney has worked as an educator in community service with national organizations including the Neurological Health Foundation, Head Start, Understood.org, HandsOn Phoenix, SparkPE, the First Nations in Canada, and Points of Light (Generation On) Dr. Kenney values working with Title I Schools.
Testimonials
"Thank you for sharing your knowledge and skills. I loved the 'hands on' activities and plan to use them in my kindergarten class."
– Sylvie Seguin | Ottawa, ON | May 11, 2016
"Lynne is a fantastic facilitator. I appreciate all the resources and examples she provided. This was an extremely enjoyable and educational workshop."
– Stephanie Mulhall | London, ON | May 9, 2016
"Speaker was upbeat, clear, engaging, easy to listen to, and easy to stay engaged. Very real and genuine and very accommodating."
– Oakville, ON | May 10, 2016
"Extremely competent speaker. She knows the material"
– Sylvie Seguin | Ottawa, ON | May 11, 2016
"Lynne was/is a wealth of knowledge and was able to keep the room engaged for the duration of the days. Lot's of great info. Looking forward to visiting her Facebook page."
– Oakville, ON | May 10, 2016
"Wonderful workshop, loved everything about it. Really good speaker. Easy to understand and really knowledgeable."
– Giselle North | London, ON | May 9, 2016
"I appreciate the conversation about sleep, nutrition, etc. Very resourceful instructor…I'd like to sit and speak with Lynne; she's so interesting and informative."
– Nicole | London, ON | May 9, 2016
"Lynne Kenney is a delightful presenter. Warm and engaging, with an infectious giggle. She presented the material in a memorable and entertaining manner!"
– 2014 Alberta Conference on Children and Adolescents | Edmonton, AB | November 3 & 4, 2014
"I appreciated Lynne Kenney's session as she incorporated movement, sharing and collaboration into the presentation."
– 2014 Alberta Conference on Children and Adolescents | Edmonton, AB | November 3 & 4, 2014
"Lynne Kenney gets five stars – humour, action and real modelling!"
– 2014 Alberta Conference on Children and Adolescents | Edmonton, AB | November 3 & 4, 2014
More information: www.lynnekenney.com