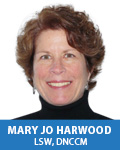 Mary Jo Harwood, LSW, MSW, DNCCM is a licensed social worker in Pennsylvania. A significant part of her 31 years as a social worker has been spent working with traumatized individuals and groups in the capacity of a therapist, EMDR practitioner, crisis responder and trauma trainer. Mary Jo's crisis and clinical experience includes local, state and national response to incidents of mass casualty. She has trained nationally and internationally on the impact of trauma. Mary Jo's clinical and crisis response experience contributes greatly to her expertise in developing and delivering trainings to national and international audiences, specific to the impacts of trauma on individuals, families and communities as well as the recognition of vicarious trauma on professionals exposed to traumatic incidents.
In addition to 16 years on the executive leadership team of a victim service organization serving over 10,000 clients annually, Mary Jo directed the Dialogue and Resolution Centre, a division of the Centre for Victims in Pittsburgh, PA. Her leadership contributed to the development and delivery of trainings that addressed building conflict-competent teams in organizations and providing guidance and support to supervisory-level staff when addressing conflict with employees, allied professionals, community leaders and victim service clients. As a community mediator, Mary Jo has worked with diverse populations to resolve conflict that is often associated with post crisis response and the rebuilding of communities. Internationally, Mary Jo is a member of Mediators Beyond Borders Internationally. She has worked in Liberia and South Sudan and consulted with teams in Northern Nigeria and Kenya to address the intersection of trauma and peace building through the application of conflict and trauma sensitive programming.
Currently, Mary Jo is a program coordinator for the Traumatic Stress Institute. She provides coaching and training services to organizations committed to trauma-informed systemic change. Mary Jo is a volunteer Victim Offender Dialogue Mediator for the Office of the Victim Advocate. She is also a member of the American Academy of Experts in Traumatic Stress and the National Centre for Crisis Management.