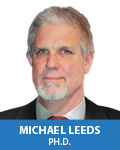 Michael Leeds, Ph.D. is an internationally-recognized community mental health trainer and consultant. He has designed and implemented strength-based community mental health treatment programs, in both residential treatment and out-patient settings, addressing substance abuse, violence and aggression, domestic violence, post traumatic stress syndrome, and gang prevention.
As a Master Trainer for the National Institute on Drug Abuse he has designed and delivered educational and professional development training in the areas of substance abuse prevention/education, assessment and treatment, and tobacco education and cessation.
His presentations include student assistance programs, bullying and harassment, team building, communication skills training, stress and anger management, mindful meditation, management of uncivil behavior, management of assaultive behavior, counselor training, rituals and rites of passage, experiential education, mentor programs, peer helper and mediation training.
Dr. Leeds has worked with hundreds of school districts, colleges and universities, tribal administrations, state agencies, businesses and community organizations to develop health promoting programs and strategies. A licensed marriage and family therapist with a doctoral degree in psychology, Dr. Leeds offers a range of mental health services through his consultation practice in Eugene, Oregon.