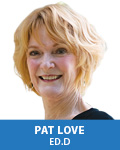 Pat Love, Ed.D., (yes that is her real surname) has authored/co-authored six books, has written numerous professional publications, and has developed multiple training programs including Love Education™. Her work literally has taken her around the world to help people understand and improve their relationships.
Dr. Pat Love is known for her warmth, humour, and practical, research-based wisdom. Her blog posts, YouTube clips, books, trainings, workshops, and online courses have made her a popular go-to relationship consultant. Her work has been featured on TV, in cyberspace, and popular magazines, but she's also a distinguished professor, licensed marriage and family therapist, and long-standing clinical member and approved supervisor in American Association for Marriage and Family Therapy.
Dr. Love received her doctor of education in counsellor education from West Virginia University. She was a tenured associate professor at Texas A&M University in Commerce, Texas for six years before establishing the Austin Family Institute in Austin, Texas. Dr. Love also served as president of the International Association for Marriage and Family Counselling.
Today, she continues following her passion to help others through her writing and as a relationship consultant, trainer, and workshop presenter.
More information: www.patlove.com