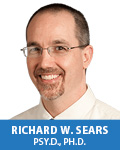 Richards W. Sears, Psy.D., Ph.D., ABPP is a board certified clinical psychologist in Cincinnati, Ohio, where he runs a private practice and conducts regular MBCT groups for medical centres as well as for the community. He is director of the Centre for Clinical Mindfulness & Meditation, and has several academic faculty appointments, including the UC College of Medicine Department of Psychiatry and Clinical Neuroscience. He was clinical lead on one of the first trials using MBCT for PTSD within the VA system, and is also on the first research team to conduct brain scans on children and adolescents before and after mindfulness practice. Dr. Sears is author of 10 books, including Building Competence in MBCT, MBCT for PTSD, and Cognitive-Behavioural Therapy and Mindfulness. He is an authorized Zen teacher, has a fifth degree black belt in To Shin Do/Ninjutsu, and once served as a personal protection agent for the Dalai Lama.
Testimonials
"Dr. Sears did very well going over his 8 week session in one day to give us fantastic overview. He was extremely knowledgeable and was very, very helpful when answering questions and relating the topic to real life situations."
– Calgary, AB | November 20, 2019
"Dr. Sears was wonderful, down to earth and funny. It was a treat to sit through 2 days of training! Thank you!"
– Edmonton, AB | June 3 – 4, 2019
"Wonderful Instructor, great material, delivery and clear understanding of practical application. 2 days well spent – thank you!"
– Edmonton, AB | June 3 – 4, 2019
"Dr. Sears was an absolutely amazing speaker with a strong understanding of the material. He was informative, interesting and engaging. I will be leaving with practical skills, ideas and strategies to apply to my life personally and in my field of work. Thank you! 
– Kim Smolley | Edmonton, AB | June 3 – 4, 2019
"Excellent seminar! I loved the humour and open discussions! Great Job Dr. Sears!"
– Richmond, BC | June 6 – 7, 2019
More information: www.psych-insights.com