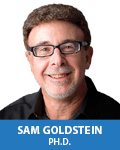 Samuel Goldstein, Ph.D. (born May 13, 1952) is a neuropsychologist best known for his work in child psychology, development and neuropsychiatric disorders, including testing and assessment.
He obtained his Ph.D. from the University of Utah and is licensed as a psychologist and certified as a Developmental Disabilities Evaluator in the State of Utah. He is Board Certified as a Pediatric Neuropsychologist by the American Board of Pediatric Neuropsychology. He is listed in the Council for the National Register of Health Service Providers in Psychology. Dr. Goldstein is also an Adjunct Assistant Professor in the Department of Psychiatry, The University of Utah School of Medicine.
Dr. Goldstein is Editor-in-Chief of the Journal of Attention Disorders. The Journal of Attention Disorders is ranked in the top 25% of all psychology journals worldwide. He is a former Contributing Editor to Attention Magazine. He currently sits on the editorial boards of six peer-reviewed scientific journals. He has authored, co-edited or co-authored over fifty clinical and trade publications, including twenty-six textbooks. He has also authored three dozen book chapters and nearly three dozen peer-reviewed scientific studies.