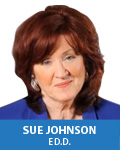 Sue Johnson, Ed.D., is the leading developer of Emotionally Focused Therapy (or EFT).  She is a Professor Emeritus of Clinical Psychology at the University of Ottawa, Distinguished Research Professor in the Marital & Family Therapy Program at Alliant University in San Diego, Director of the International Centre for Excellence in Emotionally Focused Therapy (CEEFT) and Director of the Ottawa Couple and Family Institute.
Sue received her doctorate in Counselling Psychology from the University of British Columbia in 1984.  She is a registered Psychologist in the province of Ontario, Canada, and a member of the editorial boards of the Journal of Marital and Family Therapy, the Journal of Couple and Relationship Therapy and the Journal of Family Psychology.
Dr. Johnson has received a variety of awards acknowledging her development of EFT and her significant contribution to the field of couple and family therapy and adult attachment.  Her numerous honours include the Outstanding Contribution to the Field of Couple and Family Therapy Award from the American Association for Marriage and Family Therapy.  She is a Fellow of the American Psychological Association.
Sue has numerous publications in the field of couple therapy.  Her most recent publication, Soothing The Threatened Brain:  Leveraging Contact Comfort through Emotionally Focused Therapy (PLOS) included a brain scan study showing how contact with a loving partner mitigates threat and fear responses.  Sue's most recent book, Love Sense:  The Revolutionary New Science in Romantic Relationships, outlines the new understanding of why and how we love based on scientific evidence and cutting-edge research.  Sue is also the author of the bestseller, Hold Me Tight:  Seven Conversations for a Lifetime of Love.
Sue's other books include The Practice of Emotionally Focused Couples Therapy:  Creating Connection (2nd Ed, Routledge, 2004) – the basic text on EFT for couple therapy, Emotionally Focused Couple Therapy with Trauma Survivors (Guilford, 2002) and edited books such as Attachment Processes in Couples Therapy (Guilford, 2003).
Recent Awards and Accolades
2016      Family Psychologist of the Year" award – American Psychological Association (APA), Division 43

2013      Training Award, American Association of Marital & Family Therapy
2009      Lifetime Achievement Award, Belgium Association for Couple and Family Therapy
2005      Award for Research in Family Therapy, American Family Therapy Academy (AFTA)
2003      Excellence in Education Award, University of Ottawa
2003      Fellow, American Psychological Association (Family Psychology)
2000      Outstanding Contribution to the Field of Marital and Family Therapy Award, American Association for Marital and Family Therapy
2000      YMCA Woman of Distinction Award – National Capital Region (Ottawa, Canada)
Testimonials
"Thank you for showing the video clips … fantastic to see this model in action. Can't say it enough … thank you!"
– Bonnie | May 10, 2016

"What a wonderful amazing ride. I am in tears that it is over. Thank-you so much for your wisdom, guidance and connection."
– Brigitte | May 10, 2016

"Sue, I am so privileged to have taken this amazing and informative course with you."
– Mona | May 10, 2016
"Thanks so much Sue Johnson. Loved this webinar. It has really helped me to work with more difficult couples more effectively."
– Sandra | May 10, 2016

"Thank you so much for this wonderful, intoxicating webinar !!!"
–  Katrin | May 10, 2016

"Sue – I wanted to express my heartfelt thanks for your informative and personalized introduction to EFCT."
– Dale | May 10, 2016

"Thank you so much for this six week course. I have learned so much from not only the content of your training but from the modelling that you demonstrated."
– Trudy | May 10, 2016

 

"Thank you so much for this wonderful webinar. I have learned a great deal and will miss these weekly lessons."
– Nancy | May 10, 2016

"I love your work. Thank you very much."
– Frank | May 10, 2016

"This has been a fantastic workshop. I have been able to use what I've learned when working with my present and new couples. It is amazing to watch couples become increasing more aware of their relationship patterns and move towards corrective experiences. Thank you so much for your wisdom and practicality in teaching and promoting EFT. I love it!"
– Bonnie | May 10, 2016
More information: www.iceeft.com | www.drsuejohnson.com