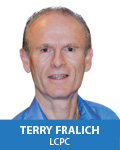 Terry Fralich, LCPC is a Licensed Clinical Professional Counselor with a private practice in Southern Maine and a former Adjunct Faculty Member of the University of Southern Maine Graduate School. He also is an attorney who practiced law in New York City, Los Angeles and Portland prior to becoming a counselor. During that time, Terry studied extensively with His Holiness the Dalai Lama, other leading Tibetan teachers and with some of the American pioneers of mindfulness. Inspired by their teachings and his own study of psychology, mindfulness and meditation, he earned a masters degree in clinical counseling, left the practice of law and began his counseling and teaching activities.
Terry is a co-founder of the Mindfulness Retreat Center of Maine. He has led more than 300 seminars and retreats at the Center, at Omega Institute, Kripalu Center for Yoga and Health, nationwide and in Australia in mindfulness, meditation, emotional intelligence, stress reduction, and the latest developments in neuroscience. In addition, he taught mindfulness, meditation and behavioral change for six years at Maine Medical Center's cardiac rehabilitation program and the Cancer Community Center in Southern Maine.
His first book, Cultivating Lasting Happiness: A 7-Step Guide to Mindfulness, was published in 2008, with a Second Edition in 2011. His second book, The Five Core Skills of Mindfulness: A Direct Path to More Confidence, Joy and Love, was published in November, 2013. Terry has pursued his own mindfulness and mediation practice for more than 35 years.