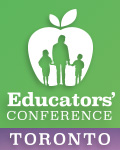 For Education and Clinical Professionals, Parents, Caregivers & More
Presented by Meghan Barlow, Ph.D. and Peg Dawson, Ed.D., NCSP and Steven G. Feifer, D.Ed., ABSNP and George McCloskey, Ph.D. and Kathy Morris, M.Ed. and Rebecca Moyes, M.Ed. and Steven T. Olivas, Ph.D., HSP and Eboni Webb, Psy.D., HSP and Christine Dargon, Ph.D.
Tuesday, April 30, 2019 – Thursday, May 2, 2019 | Toronto, on
→ More information & registration
---
Important Notice:
The Earlybird Deadline has now been extended to 25/04/2019.
Workshop Aide positions are still available. For more information: Click Here
---
Additional Information:
Please note, there have been changes made to the line up. Please see the event page for the most up to date information.